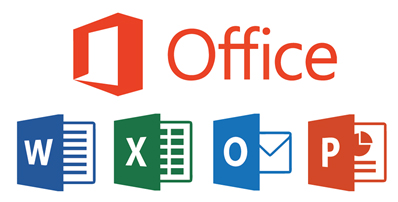 Microsoft Office is one of the most popular and widely used software platforms in the world. 80% of organizations worldwide use and depend on this omnipresent software to communicate, create documents, and balance their books. Every time someone in your organization turns on a computer, be it PC or Mac or Linux, they are more than likely to see the Microsoft logo due to the Office suite.
Office 365, the cloud-based subscription model of the same dependable suite, further allows businesses to enable their employees to work anywhere, anytime without the need to host their own email, files, and content management infrastructure. Over the years, due to the flexibility of payments, ease of software use, and ability to seamlessly update, Office 365 has become the preferred model for organizations to consume Office tools.
Note: This article is a part of a series on Data Protection.
With a cloud platform comes the expectation that your business-critical data is safe and protected at all times. After all, you are paying for a service (or subscription model) which is supposed to make business processes and data available at all times, from anywhere. This also means that the data required to ensure business continuity is secured and protected. Right?
Learn more about the Cloudian-Veeam solution for Office 365 backup.
That is where most organizations are mistaken. A cloud platform and SAAS model ensure the availability of the software platform and ensure its availability, however, data availability is different from Data protection. Data availability is achieved by having redundancy zones. Data protection, on the other hand, refers to the ability to revive or restore data in the event of a failure, disaster, or attack. This is achieved by backing up your data in secure and reliable storage (on-prem or in the cloud).
For all its capabilities, great features and ability, Office 365 only ensures high availability of data. What it lacks is a comprehensive protection for your business-critical assets.
Below is a listing of what is covered vs. what your organization needs to focus on for comprehensive protection and business continuity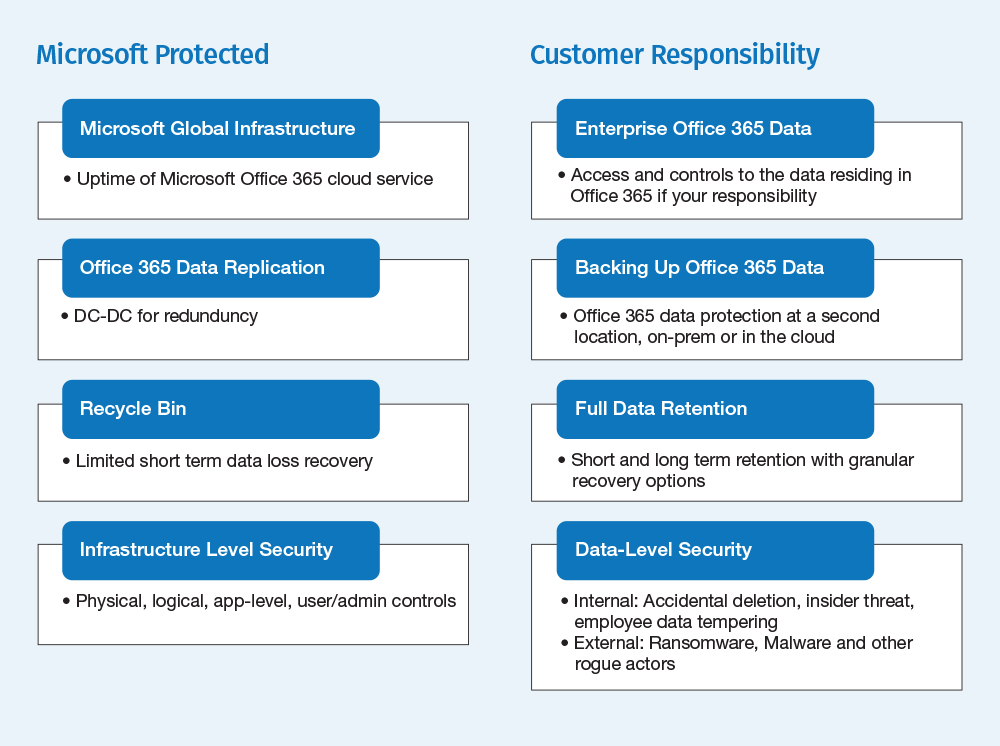 * Office 365 Trust Center
It is clear that in the shared responsibility model, protecting your business-critical Office 365 data is still your responsibility. Using an industry-grade backup for Microsoft Office 365 paired with Cloudian HyperStore, provides a great solution with on-prem data protection that is secure, scalable and within the controls of your organization's firewall. Cloudian's S3 native on-prem object storage platform works with all backup applications that support S3, which is the de-facto standard of the cloud. Below is an example of a solution of Cloudian HyperStore as a target for Veeam's Office 365 Backup (VBO).

VBO version 4's native support of the S3 API allows seamless integration with Cloudian HyperStore. Backups are off-loaded directly onto HyperStore, providing a fast, on-premises disk-based data protection solution for Office 365 within the security of your datacenter. The solution provides comprehensive protection and eliminates the risk of losing access and control over your Office 365 data, including Exchange Online, SharePoint Online, OneDrive for Business and Microsoft Teams — so that your data is always protected and accessible.
Learn more about the Cloudian-Veeam solution for Office 365 backup
To watch a video demonstration of adding Cloudian Object Storage to Your Veeam Backup for Office 365