Enterprise-grade, fully native S3-compatible object storage for VMware Cloud Foundation with VMware Tanzu supporting traditional and containerized applications
Cloudian today announced that it will offer its enterprise-grade, fully native, S3 API-compatible HyperStore object storage software for VMware Cloud Foundation™ with VMware Tanzu™. The resulting solution combines the industry-leading VMware HCI platform and Cloudian HyperStore object storage platform into a single shared-nothing data platform, allowing IT operators to modernize their storage infrastructure, accelerate innovation and improve time to market with enhanced application portability. With this solution, enterprises can run any application in a single storage environment, at any scale, on-prem and in the cloud with lower TCO.
Solution Overview
Enterprise cloud-native applications demand a cloud platform that can support stateless and stateful workloads along with the necessary performance and SLA guarantees. By connecting Cloudian HyperStore with the VMware vSAN™ Persistent Services platform, the solution will enable new efficiencies and savings by allowing VMware customers to run both modern, cloud-native applications and traditional applications in a shared S3-compatible object storage environment, at scale, and across clouds. It will allow customers to extend Cloudian's simple-to-deploy and easy-to-manage, exabyte scalable, highly secure, multi-tenant storage to any application. IT operators will be able to quickly respond to developer needs and deploy modern stateful services easily, while developers will be able to dynamically scale these services as their application scales.
"Our partnership with Cloudian is an important component of our modern applications strategy", said Lee Caswell, VP Marketing, CPBU, VMware. "Our mutual customers are pleased to see that the VMware Cloud Foundation will support scalable, S3 API compatible, multi-tenant storage from Cloudian HyperStore for more secure deployment of modern stateful services across the hybrid cloud."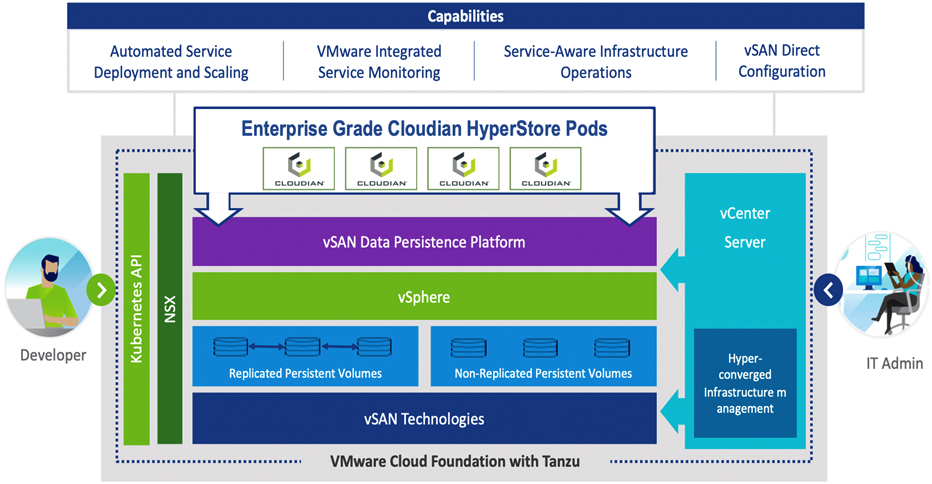 The  solution will help maximize the benefits of modern stateful services on VMware Cloud Foundation with Tanzu. Key features will include:
Enterprise-grade object storage on vSAN Data Persistence platform: Leverage underlying vSAN storage configurations for Cloudian HyperStore object storage to improve storage efficiency.
Automated deployment and scaling through Kubernetes: Easily install, deploy and scale Cloudian HyperStore on VMware vSphere® clusters straight from the VMware vCenter® UI dynamically in a self-service manner through Kubernetes APIs.
vSphere-integrated capacity and health monitoring: Seamlessly manage a HyperStore cluster across data centers, edge environments, and clouds without leaving vSphere.
Service-aware infrastructure operations: Minimize the disruptions and impact of infrastructure operations such as planned maintenance and lifecycle management.
CAPEX savings: Leverage Cloudian data policies (replication or erasure coding) with vSAN Direct Configuration™ to lower costs and improve storage efficiency.
OPEX savings: Consolidate both traditional workloads and modern, cloud-native workloads on the same platform, eliminating infrastructure silos and capitalizing on common skills and training.
Summary
Cloudian and VMware have a long-standing strategic partnership that started with a design partnership resulting in the first Object Storage for VMware Cloud Director solution – allowing cloud service providers to leverage Cloudian's proven S3 API- compatible storage platform to offer a portfolio of storage-based as-a-service opportunities. Today's announcement extends the Cloudian relationship to VMware enterprise users, allowing them to adopt a new "cloud-native" approach by reorganizing and modernizing their infrastructure, processes and workflows, and creating new applications with DevOps models in mind.
Get the Solution Brief: Cloudian HyperStore for vSAN Data Persistence Platform
---
Download the Object Storage Buyer's Guide
Try Cloudian Free