We're excited to announce Cloudian Object Storage for VMware Cloud Director, an integrated storage platform that enables VMware Cloud Providers and their customers to deploy, manage and consume S3-compatible storage within their services environment.
View the VMware lightboard video
Scalable, Cost-Effective Storage for Unstructured Data
This new offering does for unstructured data – such as images and files – what vSAN does for structured data: it provides an integrated S3-compatible storage solution that is provisioned and managed within the VCD framework.

Furthermore, Object Storage for VMware Cloud Director enables a limitlessly scalable storage pool, where up to an exabyte of data can be managed within a single namespace, and at far less cost than other storage types.
VMware Cloud Director Integration
Jointly engineered by VMware and Cloudian, the solution consists of two elements:
VMware Cloud Director Object Storage Extension: Object Storage middleware in VMware Cloud Director that is extensible and provides the storage management framework.
Cloudian Object Storage: The storage layer that provides the S3-compatible storage environment.
As with vSAN, object storage is seamlessly integrated within the management environment.

The Simple Path to New, High-Value Add Services
For VMware Cloud Providers, this platform opens the door to new service revenue streams in use cases
such as:
Storage-as-a-service
Backup-as-a-service
Archive-as-a-service
Container storage services, with VMware PKS
Furthermore, a growing ecosystem of S3-compatible applications create many other services options. Whether in big data, healthcare, media & entertainment, video surveillance or others, a scalable, S3-compatible platform gives CSPs new opportunities to build differentiated services offerings.
Fully S3-Compatible Storage Platform
Designed exclusively to support the S3 API, Cloudian Object Storage features a native S3 API implementation and offers this industry's best S3 compatibility. This makes it an ideal platform for S3-compatible services offerings and software development.
Storage Management via VMware Cloud Director
All commonly-used storage management functions are accessible via VMware Cloud Director. Create users and groups, provision storage, set policies, and monitor usage, all without leaving the VCD UI. This eliminates the console-hopping that saps productivity and allows management tasks to be automated within the VCD framework.

Self Service for Cloud Providers' Tenant and Users
On the customer side, users also gain a self-service portal, letting them also accomplish storage management tasks on their own, via VCD. For the cloud provider, this translates to increased productivity and higher customer satisfaction.
Deployment Options
Cloud providers have two deployment options (both are managed via VMware Cloud Director):
Software-Defined Storage: Deploy Cloudian software on your existing VMware compute and storage platform and leverage the storage you already have. Storage appears as a scalable S3-compatible storage pool. A utility-based pricing model lets you license Cloudian software for just the object storage capacity in use. (This option will be  available Summer, 2019)
Appliance: Deploy as a pre-configured storage appliance from Cloudian. Start small and seamlessly scale to an exabyte without interruption. (Available July 2019)

Example Workflow
From end-to-end, cloud providers and their clients can manage entire workflows via VMware Cloud Director.
Consider this backup-as-a-service offering: A service provider can configure the storage target (Cloudian
Object Storage), configure the backup software, and create new tenant users, all from a single VCD
screen. The tenant can then create and schedule backup jobs, monitor progress, and perform restores,
also though VCD.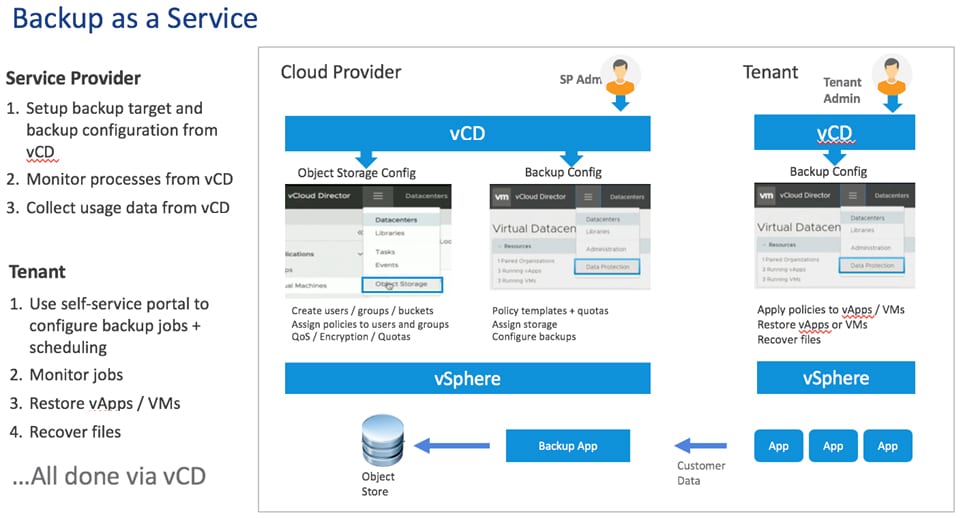 Free up Space From VCD Datastores
For the service provider, this platform can also increase storage efficiency by offloading vApps not currently in use, thus freeing up storage space from VMware Cloud Director datastores. When required, restore the vApp back in the datastore for continued use.
Ideal Feature Set for Service Providers
Built for service providers, the Cloudian platform includes the full range of features needed to build and manage a profitable services business:
Multi-tenant Resource Pooling: Create isolated, secure storage pools within a shared storage platform. Customers have independent role-based authentication and fine-grained access controls.
Geo-Distribution and Cloud Migration: Policy-based tools enable simple, secure storage migration and management across sites for disaster recovery and storage resource optimization, all within a single namespace.
Integrated Management: Manage commonly used storage functions, such as reporting and configuration of users and groups, with access provided from within the VMware Cloud Director user interface. For advanced functions, a single sign-on provides seamless access to the Cloudian user interface.
Quality of Service: Manage service level agreements with bandwidth controls to ensure a consistent customer experience.
Billing: Generate client billing information using selected usage parameters.
Modular Scalability: Start small and grow without interruption to an exabyte within a single namespace.
Data Durability up to 14 Nines: Deployment options, including erasure coding and data replication, allow for configurable data durability up to 99.999999999999%.
Data Security and Compliance: Data is secured with AES-256 server-side encryption for data stored at rest and SSL for data in transit (HTTPS). WORM and audit trail logging are provided for compliance.
Granular Storage Management: Manage data protection and security at the bucket level to tailor capabilities for specific users.
Self-service Management: Role-based access controls allow customers to select and provision storage on-demand from a service catalog via a self- service portal.
General availability of Cloudian Object Storage for VMware Cloud Director is July 2019. We're looking forward to helping our cloud provider partners and their customers build new business opportunities to capitalize on the growing ecosystem of S3-compatible applications!
View the VMware lightboard video