Cloudian and VMware now offer an integrated solution that offers a seamless experience for all vCloud Director service providers and its customers/tenants to leverage Cloudian HyperStore object storage.
View the VMware lightboard video
The integrated solution for the first time brings S3 API support and Cloudian object storage to VMware vCloud Director environments.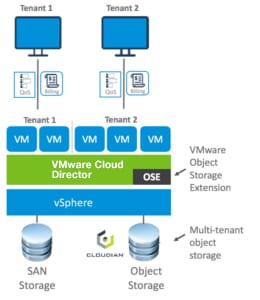 The solution combines the power of:
VMware Cloud Director — a leading cloud service-delivery platform used by thousands of cloud providers to operate and manage successful cloud-service businesses
Cloudian HyperStore — an S3 API-based, infinitely scalable, durable and multi-tenant cloud object storage platform used by customers worldwide to address their ever-growing storage capacity needs
Now, cloud providers can now deliver new S3-compatible storage and and other high-value services to enterprises and IT teams across the world.
Under the Hood
So let's dig a little deeper to better understand what this partnership and integrated solution offer. Every IT team has cloud on their mind and with vCloud Director, VMware is leading the charge by powering a network of thousands of cloud providers who guide their customers' journey from on-premises to private cloud, hybrid cloud, or even multi-cloud roll out.
What was missing was a scalable, cost-effective storage layer. This is now addressed with the release of Object Storage Extension (OSE) and the integration of Cloudian HyperStore with VMware Cloud Director. The VMware Cloud Director admin can install OSE — just like they would install any other extension — which allows them to integrate and manage Cloudian HyperStore via the VMware Cloud Director admin portal. The VMware Cloud Director admin can also leverage SSO to sign on to the Cloudian management console to set up and configure a Cloudian HyperStore cluster.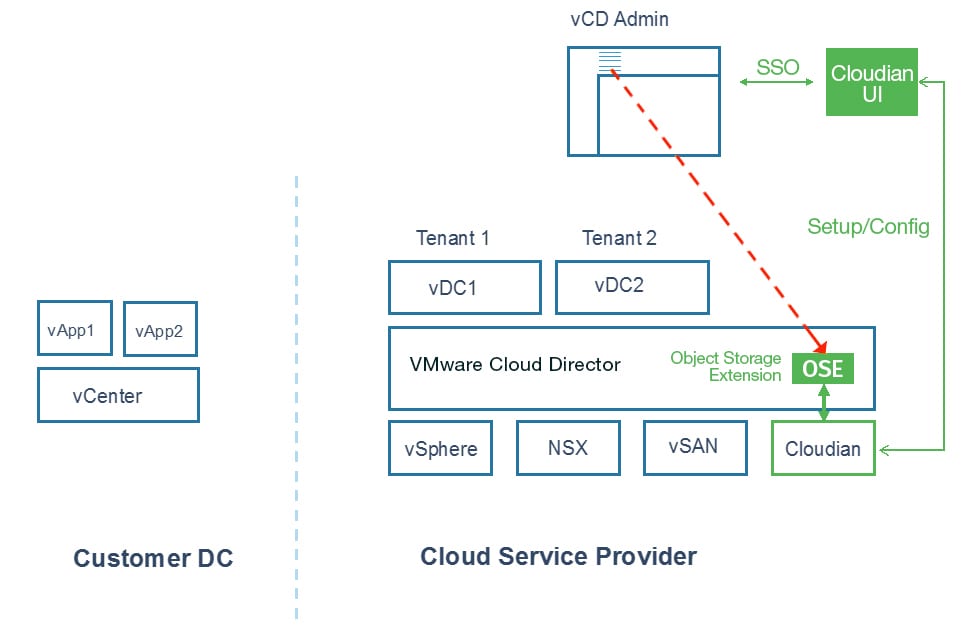 VMware Cloud Director creates virtual data centers with elastic pools of cloud resources that are seamless to provision and easy to consume. It creates a fluid hybrid cloud fabric between an on-premise infrastructure and Cloud Service Provider, offering a best-in-class private/hybrid cloud with on-demand elasticity, streamlined on-ramp, native security, and hybridity.
Deep Integration for Seamless Management
This integration is not just about offering S3 API-based storage. It's fully integrated management. Now, a VMware Cloud Director admin can centrally manage, monitor and consume Cloudian HyperStore just like they would any other storage resource, such as vSAN. This integration covers three areas:
Data APIs: S3 APIs have become the de facto language of cloud storage. Cloudian has a fully native implementation of S3 APIs, which means we have the industry's most compliant S3 API solution out there. This is key because if a service provider wants to build services that leverage S3 APIs, it needs to support all of the S3 API verbs like MPU, Sig V4, Tagging, etc. Cloud service providers don't have visibility into customers' applications and what S3 API calls they are using. Not supporting certain S3 API will result in poor customer satisfaction and higher support costs, thereby impacting profit. Cloudian offers the highest S3 API support, ensuring the best customer experience.
Object Storage Features: VMware Cloud Director is a multi-tenant framework, a key component of a VMware Cloud Provider platform. So, for a storage solution to seamlessly fit into that framework it must be securely sharable, and limitlessly scalable. Cloudian is a scale-out platform that offers multi-tenancy, QoS, geo-distribution, global namespace, integrated billing and reporting. It is cloud provider-ready.
Control Plane APIs: Most important are the Control Plane APIs that allow the VMware Cloud Director admin to seamlessly manage, operate and report from a central VMware Cloud Director portal. It allows VMware Cloud Director tenants to self-service their environment – create users, buckets, assign policies and provide reports at a granular level.
With these, cloud providers can deploy and manage profitable, high value services is use cases such as:
Storage-as-a-Service (STaaS)
Backup-as-a-Service (BaaS)
Archive-as-a-Service (AaaS)
Disaster-Recovery-as-a-Service (DRaaS)
Big Data-as-a-Service (BDaaS)
Containers-as-a-Service (CaaS)
Software Test/Dev