Object Storage Meets the Needs of 360 Video
Object storage was a hot topic at NAB 2018, and limitless capacity was one reason. There are many capacity drivers in today's media, and 360 video is one of them. So we shot 360 in our booth, recorded the data to Cloudian object storage, and now you can see it for yourself.
Post-production houses know the capacity challenge. 73% of the users we polled at the NAB Show identified capacity as a significant pain point. 4K media is widely used now, and cameras tend to roll throughout the shoot. Producers want access to all of the footage, further driving up capacity demands.
8K, VR, and media search extend the demands
In the future, 8K and VR will impose even greater capacity demands, placing more strain on storage systems. Taking things a step further, all of this media needs to be searchable. It does no good to store assets unless you have a means to quickly find and retrieve them.
Object storage meets the needs
Object storage helps in three ways:
Store: Limitless capacity without forklift upgrades or data migrations.
Protect: Data protection is built in, with data replication and erasure coding. You can even tier to the cloud using the included tools.
Find: Embedded metadata lets you find media fast using a Google-like search. Employ AI/ML tools either on-prem or in the cloud to enrich metadata. Search is not a static tool, but something that can be continuously improved over time.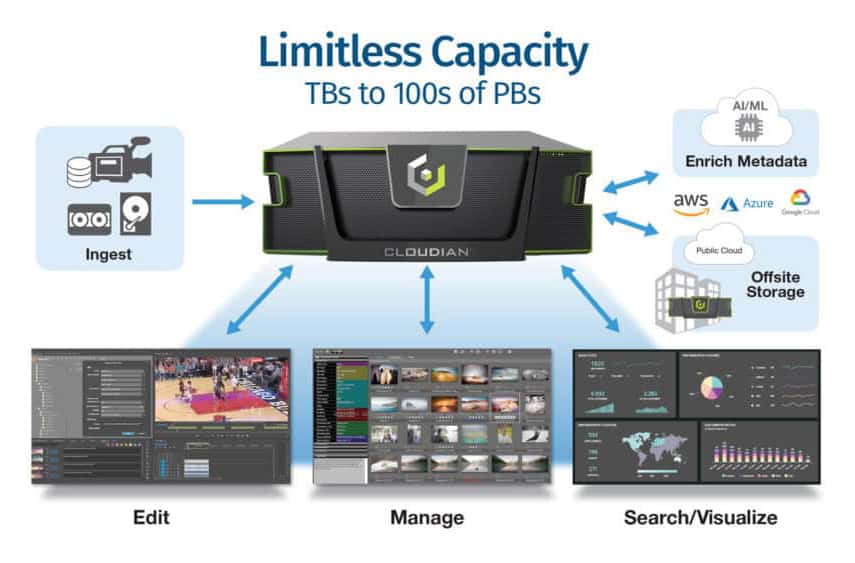 Use cases abound. Visit our NAB Resource Center to hear Cloudian customers a partners discuss their challenges and object storage solutions. Or learn more about customer solutions at WGBH here, Satellite Applications Catapult here, or Vox Media here.