Greetings from the Cloud! I am excited to announce that Cloudian just released HyperStore 5.2 and new high capacity appliances.
Let's talk HyperStore 5.2, an innovative release packed with features, such as new self-service storage policies, which allow enterprises to set data durability policies per application, optimizing data protection and reducing operational costs. The end-user install experience is a smarter, cleaner, and easier to navigate installer with more pre-checks to ensure a successful deployment. The upgrade process is now a 1-click upgrade.
I found it very simple to upgrade my existing cluster installation containing two data centers. Administrators will appreciate the new support for SNMP traps that can send alerts to an existing SNMP management system. This has already helped me debug my cluster. HyperStore 5.2 also contains AWS v4 signing. If you have any applications that use or require the new signing method, this will be beneficial.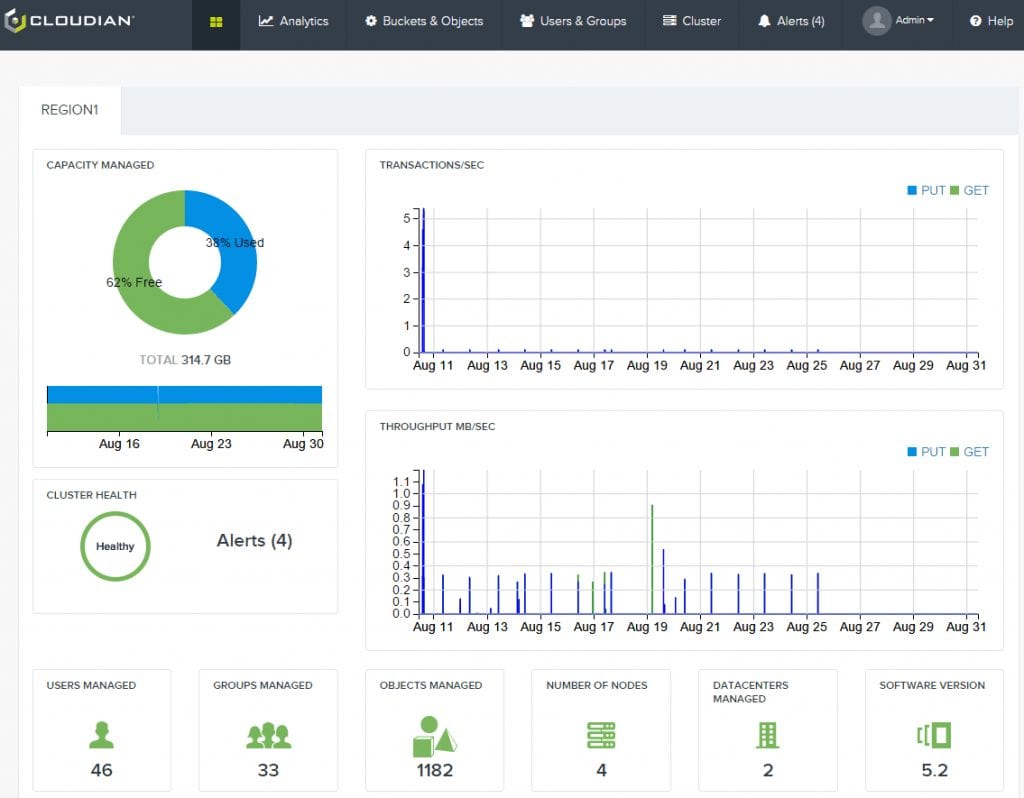 Users will love the new Cloudian Management Console (CMC). The new CMC has a new look and feel to the analytics and monitoring. The upgraded appearance of CMC includes new graphics and color schemes that make the site more user friendly and navigable. When an administrator first logs in, they will be greeted by a new dashboard showing the cluster capacity, current transactions and throughput per second , alerts, and other cluster statistics such as usrs and objects managed. The new analytics tab in CMC helped me see my capacity consumption and cluster usage statistics over time with easy to read graphs. The new capacity explorer tab helped me see the usage for each data center and node easily so I can understand my capacity needs.
The improved cluster tab in CMC let me see the node status for each data center and region. By simply hovering over a node, I can see important characteristics such as disk and network utilization. My favorite feature is the new "Cluster Config". I can easily change configuration files such as enabling QoS or compression from CMC without touching the command line. After making the configuration file changes, CMC will make the necessary system calls to distribute the changes across the cluster.
The new storage policy configuration tab allowed me to configure data protection polices such as replication or erasure code in a cluster-wide or group basis. There are advanced settings that are available to let you configure the consistency levels for the data and metadata. After the policy has been created, I created a new bucket in CMC and chose the new storage policy. For new installations, setting the storage policy will be the first task to do when you login the console.
And the new capacity-optimized Cloudian HyperStore "forever live" smart data appliance is the first future proof storage solution. HyperStore FL3000 rack-ready appliances feature eight storage nodes in 3U, making it easy for enterprises to deploy full-featured, Amazon S3-compliant cloud storage with infinite scalability and "always on" accessibility. Each model is fully integrated with Cloudian HyperStore software to assure unlimited scale, multi-data center storage, fully automated data tiering, and support for all S3 applications.
These are big announcements from Cloudian. Once you try 5.2 release or the new high-capacity appliance, I am sure that you will be pleased and share my enthusiasm. Until we meet again, have a great day and look to the cloud!.