Exploding data volumes are forcing the issue of data center modernization for many businesses. Adapting quickly and managing the rapid surge in data growth can be overwhelming and expensive, especially when using legacy technology and infrastructure. On top of this, demands for instant data accessibility, data retention, and data governance compliance are adding to the pressure businesses are under.
In this increasingly dynamic environment, the challenge of ensuring data protection has grown tremendously in complexity. Data centers built on legacy infrastructure are costly to manage, scale and keep current. This results in a host of issues, including excessive backup times (especially when backups fail) and the challenge of meeting RTO and RPO SLAs.
Data Protection Reimagined
To address these challenges, Cloudian has teamed with Lenovo, Rubrik and Nutanix to create a new, best-in-class data protection solution. Leveraging Lenovo's DX8200C storage appliance, pre-integrated with Cloudian HyperStore software, and Lenovo ThinkAgile HX Series hyperconverged appliances powered by Nutanix, the solution uses Rubrik Cloud Data Management to deliver an all-in-one, highly scalable data protection solution.
Lenovo DX8200C appliance powered by Cloudian
The solution includes the DX8200C Powered by Cloudian appliance, providing affordable, highly efficient, petabyte-scale object storage. With unmatched data durability and enterprise-class reliability, the Lenovo DX8200C appliance is an easy-to-deploy, pre-validated turnkey system, fully featured as on-premise S3-compliant storage, with geographic independence, QoS and multi-tenancy.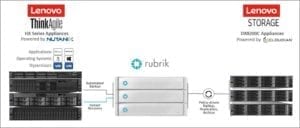 Rubrik Cloud Data Management Appliances
Rubrik Cloud Data Management enables data protection by automating backup and instant recovery policies, data archiving with automated, policy-based data retention, and smart analytics and reporting for compliance and capacity utilization tracking. Rubrik delivers instant recovery, search, and copy data management in one secure fabric across the data center. With Rubrik, enterprises benefit from near-zero recovery times, accelerated application development, and actionable insights on operational efficiency and compliance via custom reporting.
Lenovo ThinkAgile HX Series powered by Nutanix
The Lenovo ThinkAgile HX Series is designed to help simplify IT infrastructure, reduce costs, accelerate time-to-value, and deliver greater reliability. These hyperconverged appliances from Lenovo combine industry-leading hyperconvergence software from Nutanix with Lenovo ThinkSystem servers to consolidate servers, storage, and virtualization into one virtual structure. The Lenovo HX Series powered by Nutanix simplifies the data center, reduces costs, accelerates time-to-value, and delivers greater reliability.
Learn more with our Solution Brief and Whitepaper. You can also contact your Cloudian sales representative at [email protected]