NAB SHOW  2019 —
It's a Wrap!
Another great NAB SHOW for Cloudian and partners. Thanks to everyone who stopped by to say hello.
On this page, you will find the partner presentations from our booth, along with related collateral and videos.
1-CLICK SUBSCRIBE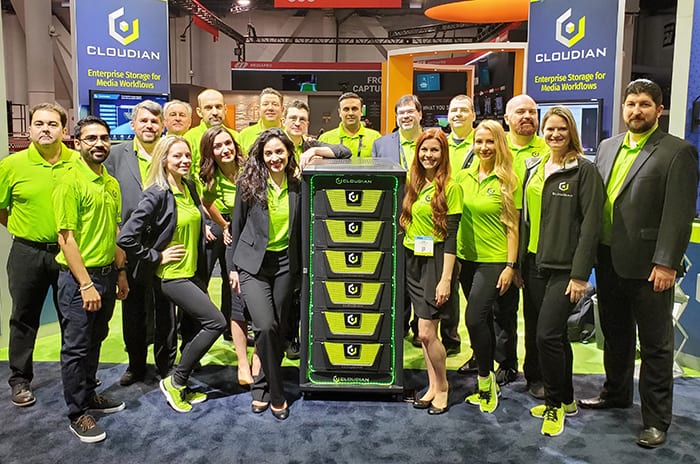 NAB PARTNER PRESENTATIONS
Nutanix
On-Premises Cloud for Media Workflows (13:29)
Quantum
Quantum StorNext Intelligent Archiving with Cloudian (7:43)
SME (Storage Made Easy)
The SME File Fabric: Binding Diverse Types of Storage (11:44)
Microsoft
Azure Storage Overview (12:29)
Cisco
Transforming the Media Production Value Chain (10:07)
eMAM
Manage Media Stored Anywhere and Managed from Anywhere (11:15)
Vizrt
Object Storage: A Natural Choice for MAM (8:12)
Data Expedition
Accelerating Media Workflows (11:49)
Telestream
Media-Aware Storage: Automated Metadata Enrichment and Intelligent Workflow Collapsing Storage Infrastructure Silos (17:35)
infiniteio
Simplify and Accelerate Hybrid Cloud Storage with Zero Disruption to Media Workflows (8:32)
Media Translation
Hassle-Free Transition from Tape to Cloud (9:43)
SpectraLogic
Local Object Storage with a Cold Storage Tier (9:31)
cloudfirst.io
The Next Generation Software-Defined Archive (8:28)
Seagate
Data growth, Man, and the Machine (7:21)
Marquis
Disaster Recovery for Avid NEXIS Work-in-Progress Using Cloudian On-Premises S3 Storage (8:49)
Komprise
Unstructured Storage Optimized
(11:47)
GrayMeta
Turning Machine Learning & AI into Value for the End User (12:39)
LucidLink
Optimize Remote File Access Workflows on Cloudian (12:42)
Cloudian in the Azure Theatre
How Cloudian Leverages Azure Cognitive Services (AI & ML) for Enriching Metadata (8:58)
VidRovr
Using AI to Power Metadata and Search of Video in the HyperStore (4:51)
FileCatalyst
Accelerating the Ingest and Distribution of Large Media Files to/from Cloudian HyperStore (8:44)
Evolphin
AI, Archive, and How to Make More Money
(6:57)
Winthrop
Cloudian FlexStore Consumption Model (12:39)
CLOUDIAN ENTERPRISE STORAGE FOR MEDIA WORKFLOWS
Store
Limitless capacity
Modular architecture lets you start small and grow without interruption
Compatible with popular editing and asset management tools
Protect
Automated data protection
Replicate to a remote site or the cloud
No extra software to buy or manage
Find
Embedded metadata lets you "label" your media
Integrated tools enable Google-like search
Cloud integration for AI/ML-based metadata enrichment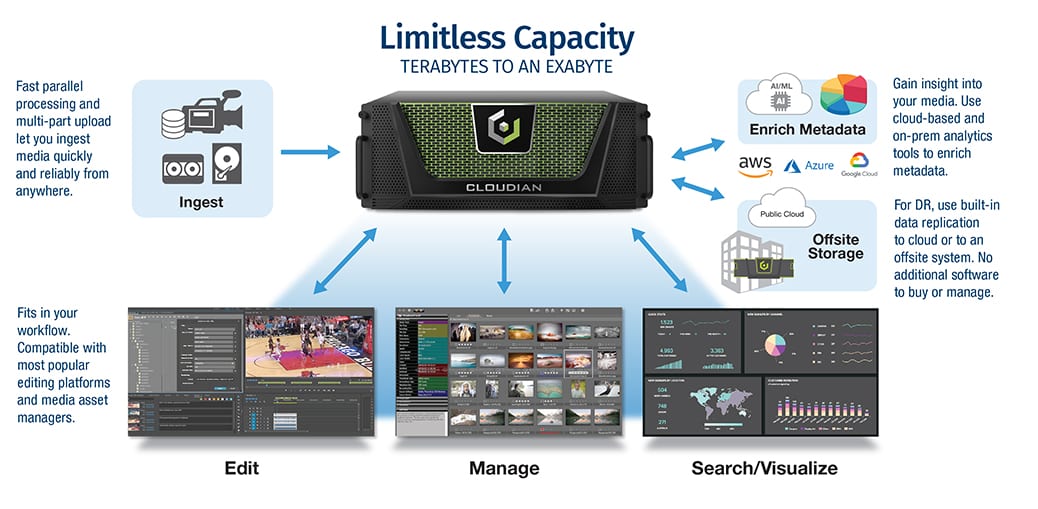 PRODUCT DEMO
Cloudian Enterprise Storage for Media Workflows
Learn how Cloudian is transforming the Media & Entertainment industry by providing customers with limitless capacity, automated data protection, and cloud integration for Artificial Intelligence and machine learning-based media enrichment.
This demo shows its extensive metadata capabilities that provide fast, Google-like search and powerful data analytics.
TCO REPORT
Tape vs Object Storage for Media Active Archive
A cost analysis of how object storage stacks up against LTO tape for media archives and backup.
Cloudian and WGBH Boston:
A Hybrid Cloud Media Active Archive
Get started with Cloudian
Contact us for more information, a product demo, free trial, or price quote