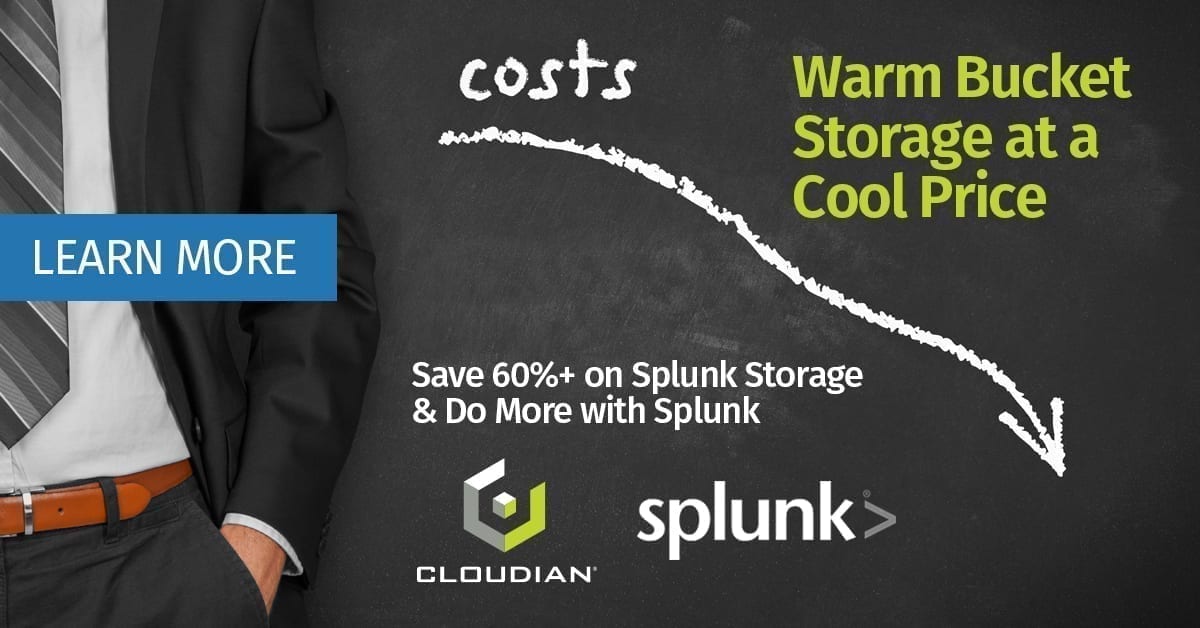 Splunk SmartStore and Cloudian together address two of the biggest challenges in Big Data: Cost and scalability. Today's larger data sets and longer retention requirements drive up the cost of storage, making it harder to accommodate the needed growth within the available budget, data center footprint, and staffing.
The Object Storage Solution
Splunk SmartStore solves these problems by providing a way for Splunk to leverage CloudianHyperStore S3-compatible storage as a highly scalable object store for index data.  Splunk's indexer storage and compute resources in a cost-effective manner by scaling those resources separately.

With SmartStore, Splunk Indexers retain data only in hot buckets that contain newly indexed data. Older data resides in the warm buckets and is stored within the scalable and highly cost-effective Cloudian cluster. SmartStore manages where data is stored, moving data among indexers and the external Cloudian storage based on data age, priority and users' access patterns.
Unlike conventional storage, Cloudian offers modular growth, letting you expand from terabytes to an exabyte without disruption. Embedded data redundancy features provide up to 14 nines data durability, removing the necessity of a separate data backup process. Compared with traditional enterprise storage — or with storage on compute-intensive servers — Cloudian saves up to 60% on TCO.
Cloudian saves on space, too, with the industry's highest density: up to 840TB capacity in each 4U high chassis.
Cloud Enabled
Cloudian is on-prem storage, but it integrates directly with public cloud storage services. Employ policy-based tools to replicate or tier data to AWS, GCP or Azure for offsite DR, capacity expansion or data analysis in the cloud. This built-in capability requires no additional software or licenses.
Secure
To ensure data security, Cloudian HyperStore provides AES-256 server-side encryption for data at rest, SSL for data in transit (HTTPS), role-based access controls and storage policies that can be applied at an object and bucket-level.
Multi-Purpose Scalable Storage
Cloudian offers the industry's most compatible S3 API, so it integrates seamlessly with S3-compatible applications. In addition to Splunk SmartStore, it also provides scalable storage for data management applications from Rubrik, Veeam, Commvault, Veritas, Pure Storage, Quantum, Komprise, and others.
Deploy as Software or Appliances
Cloudian is available as preconfigured appliances, with capacities from 96TB to 840TB, and as software for either bare-metal servers or VMs.
Download the Splunk TCO Report.
Read more about Cloudian here, or contact us for more information.
YOU MAY ALSO BE INTERESTED IN:
Object Storage vs File Storage: What's the Difference?