What is Disaster Recovery as a Service?
Disaster Recovery as a Service (DRaaS) is disaster recovery hosted by a third party. It involves replication and hosting of physical or virtual servers by the provider, to provide failover in the event of a natural disaster, power outage, or other disaster that affects business continuity.
The basic premise of DRaaS is that In the event of a real disaster, the remote vendor, which typically has a globally distributed architecture, is less likely to be impacted compared to the customer. This allows the vendor to support the customer in a worst case disaster recovery scenario, in which a disaster results in complete shutdown of the organization's physical facilities or computing resources.
Third-party DRaaS vendors can provide failover for on-premise or cloud computing environments, billed either on-demand, according to actual usage, or through ongoing retainer agreements. DRaaS requirements and expectations are typically recorded in service level agreements (SLAs).
In this article you will learn:
This article is part of a series on Disaster Recovery.
DRaaS Operating Models
There are three primary models used by disaster recovery as a service providers—managed, assisted, and self-service.
Managed DRaaS
In the managed DRaaS model, third parties take full responsibility for disaster recovery. Choosing this option requires organizations to work closely with DRaaS providers to keep all infrastructure, application, and service changes up to date. If you don't have the expertise and time to manage your own disaster recovery, this is the best option.
Assisted DRaaS
If you want to take responsibility for certain aspects of your disaster recovery plan, or if you have custom applications that may be difficult for a third party to take over, supported DRaaS may be a better choice. In this model, the service provider provides services and expertise that can help optimize the disaster recovery process, but the customer is responsible for implementing some or all of the disaster recovery plans.
Related content: read our guide to IT disaster recovery plans and disaster recovery policy
Self-Service DRaaS
The cheapest option is a self-service DRaaS, where customers are responsible for planning, testing, and managing disaster recovery, and the vendor provides backup management software, and hosts backups and virtual machines in remote locations. This model is offered by all major cloud providers—Amazon, Microsoft Azure and Google Cloud.
When using this model, careful planning and testing is required to ensure that operations can be immediately failed over to the vendor's remote data center, and easily recovered when local resources are restored. This option is ideal for organizations with in-house disaster recovery and cloud computing expertise.
How Does DRaaS Work?
The DRaaS provider provides infrastructure that serves as the customer's disaster recovery site when a disaster happens. The service offered by the provider typically includes a software application or hardware appliance that can replicate data and virtual machines to a private or public cloud operated by the provider.
In managed DRaaS, the provider is responsible for the failover process, ensuring users are redirected from the primary environment to the remote environment. DRaaS providers also monitor disaster recovery operations and help customers recover systems and resume normal operation. In other forms of DRaaS, your organization will need to assume responsibility for some of these tasks.
Hosted DRaaS is especially useful for small businesses that lack in-house experts to design and execute disaster recovery plans. The ability to outsource infrastructure is another benefit for smaller organizations, because it avoids the high cost of equipment needed to run a disaster recovery site.
BaaS vs DRaaS
Backup as a Service (BaaS) allows businesses to back up files, folders and entire data stores to remote secure data centers. It is provided by third-party managed service providers (MSP). It is the MSP's responsibility to maintain and manage backups, rather than having the IT department manage them locally.
There are three primary differences between BaaS and DRaaS:
BaaS only backs up data, whereas DRaaS is responsible for backing up data and infrastructure. In a DRaaS service, the MSP is responsible for deploying entire servers and ensuring they are available to users.
BaaS can perform data recovery, but the RPO (Recovery Point Objective) and RTO (Recovery Time Objective) are typically measured in hours or days. This is because for large datasets, it can take a long time to transfer data back from the MSP to your on-premises data center. With DRaaS solutions, you can measure RPO and RPO in minutes or even seconds, because a secondary version of your servers are ready to run on a remote site.
BaaS costs are significantly lower than DRaaS, because the main cost is storage resources used by your backups. In DRaaS you need to pay for additional resources including replication software, compute and networking infrastructure.
What Should You Consider When Choosing a DRaaS?
The following are key considerations when selecting a DRaaS provider for your organization.
Reliability
In the early days of DRaaS, there were concerns about the resources available to the DRaaS provider, and its ability to service a certain number of customers in case of a widespread regional disaster.
Today, most DRaaS services are based on public cloud providers, which have virtually unlimited capacity. At the same time, even public clouds have outages, and it is important to understand what happens if, when disaster strikes, the DRaaS vendor is unable to provide services. Another, more likely scenario is that the DRaaS vendor will perform its duties, but will not meet its SLAs. Understand what are your rights under the contract, and how your organization will react and recover, in each situation.
Access
Work with your DRaaS provider to understand how users will access internal applications in a crisis, and how VPN will work—whether it will be managed by the provider or rerouted. If you use virtual desktop infrastructure (VDI), check the impact of a failover event on user access, and determine who will manage the VDI during a disaster.
If you have applications accessed over the Internet, coordinate with providers, customers, partners, and users how DNS will work in a crisis—whether it should be transitioned to DNS managed by the provider, or kept with the same DNS (this also depends on whether your DNS is hosted or self-managed). DNS is a mission critical service, and if it doesn't work smoothly during a disaster, even if systems are successfully transitioned, they will be offline.
Assistance
Ask prospective DRaaS providers about the standard process and support they provide, during normal operations and during a crisis. Determine:
What is the disaster recovery procedure
What professional services the provider offers in time of disaster
What responsibility lies with the provider vs. your organization
What is the testing process—determine if you can run tests for backup and recovery internally, and whether testing or disaster "drills" are conducted by the provider
After declaring a disaster, how long can the provider run your workloads before recovering (to account for long term disaster scenarios)
Protecting Data Effortlessly with Cloudian 
If you need to backup data to on-premises storage, Cloudian offers low-cost disk-based storage with capacity up to 1.5 Petabytes. You can also set up a Cloudian appliance in a remote site and save data directly to the remote site using our integrated data management tools.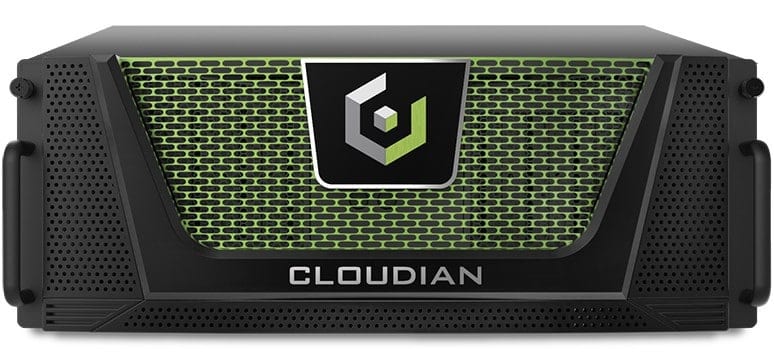 Alternatively, you can use a hybrid cloud setup. Backup data to a local Cloudian appliance, and configure it to replicate all data to the cloud. This allows you to access data locally for quick recovery, while keeping a copy of data on the cloud in case a disaster affects the on-premise data center.
Learn more about Cloudian's data protection solution.