Grant Jacobson, Director of Solutions & Alliances, Cloudian
In my recent blog post, I outlined a set of new high-value storage-based cloud service opportunities with Cloudian's HyperStore object storage platform. As a complement to traditional compute and application service offerings, cloud storage services are dramatically increasing in demand, with Storage-as-a-Service representing one of the greatest opportunities for Cloud Service Providers (CSPs) and opening the door to new service revenue streams for multiple use cases.
A continuing challenge for CSPs is building new, competitively priced services that are simple to deploy and manage without incurring large costs that make them unprofitable. Recently, we've also seen the need for additional security requirements for these services to protect against ransomware and other malware attacks and to ensure stored data meets the latest privacy and regulatory compliance demands.
Let's take a closer look at some of these important requirements and capabilities for a successful multi-tenant Storage-as-a-Service solution:
Use of shared IT resources to minimize capital and operational costs while also ensuring isolation of workloads so that a tenant workload is unaffected by other tenants
Simple real-time view and management of all data across multiple geo-distributed locations, including public cloud
Data Protection:

Secure, permission-based access to data for multiple end-users/customers using the same system
Data immutability to ensure data cannot be changed or deleted

Integrated per-tenant billing and Quality of Service (QoS) options to ensure customer Service Level Agreements (SLAs) can be met
Flexible options from a single platform for performance, capacity scaling, data protection, disaster recovery, etc.
Today, there are hundreds of Cloud Service Providers offering Storage-as-a-Service using Cloudian S3-compatible HyperStore storage to provide these and other capabilities, enabling their end-user customers to meet their S3 application storage needs with proven, best-in-class storage capacity on a subscription basis. Whether it's providing highly secure storage for  growing archives of healthcare or financial data or as a data lake for their Splunk and other big data applications, Cloud Service Providers are increasingly seeing value serving end-user application needs with Cloudian-based Storage-as-a-Service, particularly as a cost-effective and reliable alternative to public cloud which can be as much as three times more expensive.
Cloudian HyperStore Overview – Scalable Storage Platform for Cloud Storage Services
Cloudian HyperStore is the industry's leading S3-compatible storage platform that delivers unmatched data integrity and protection. Designed from the start with Service Provider features—including multi-tenant resource pooling and integrated management tools such as billing and QoS controls—HyperStore enables CSPs to start small with just three nodes and then grow storage capacity needs to an exabyte without disruption.
HyperStore software also has flexible deployment options and can run in VMs or bare metal, on existing hardware and with Cloudian's pre-configured appliances (capacities ranging from 96TB to 1.5PB in 4U). Seamless integration with VMware Cloud Director makes HyperStore a great option for VMware Cloud Providers seeking to expand their services business.
A few unique capabilities to highlight include granular, bucket-level policies supporting a mix of Erasure Coding (EC) and Replication (RF) schemes, within and across locations to meet a range of data durability requirements. Integrated search and data analytics with enhanced metadata enable new insight into stored data. For the highest level of security, Cloudian has achieved FIPS 140-2 validation and certification of its S3 Object Lock for WORM (Write Once Read Many) objects enabling full data immutability. All of these features and more can be leveraged by CSPs for their Storage-as-a-Service offerings.
Superior Economics Ensure Profitable Services – 65% Savings vs. Public Cloud
For Cloud Service Providers, profitable service delivery is a paramount goal. Cloudian's platform enables service delivery at a fraction of public cloud costs, enabling CSPs to generate margin potential in excess of 50%. And, with the ability to expand capacity non-disruptively within a single namespace, Cloudian eliminates the need to procure storage far ahead of demand, keeping expenses well aligned with revenue growth.
Let's take a hypothetical customer scenario for an end-user organization that needs one petabyte of storage and accesses 10% (or 100 terabytes) of data each month. Here is a comparison of the 5-year and monthly costs of storing the data in public cloud and a Cloudian environment.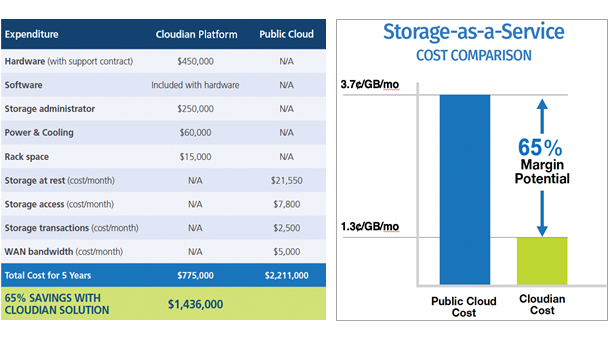 As you can see, Cloudian storage offers an impressive 65% savings over the public cloud alternative, adding up to more than $1.4 million over the five-year period. When viewed side-by-side, it's easy to see the differences. And while there is some upfront cost for hardware with the Cloudian solution, the monthly expense of storing, accessing, and manipulating data in the public cloud far exceeds the cost of equipment over the time period. In addition, it's important to note that public cloud egress fees (the cost to access or move data) with the public cloud, as well as associated network bandwidth costs, can be substantially higher than the amounts listed with frequent access to a higher percentage of stored data.
Conclusion
The Cloudian HyperStore platform is the only complete enterprise-grade object storage solution available in the market today. It provides the perfect storage solution for Cloud Service Providers looking to take advantage of the surging market demand for Storage-as-a-Service as a new profitable revenue stream.
---
LEARN MORE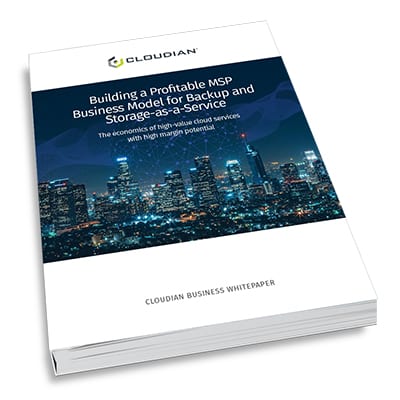 Building a Profitable MSP Business Model for Backup and Storage-as-a-Service
Read More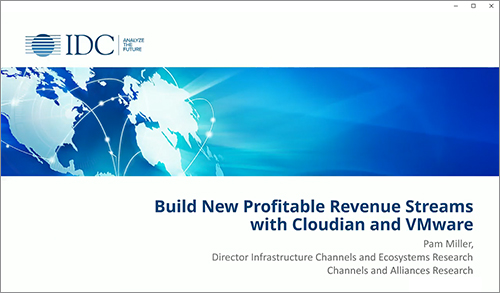 IDC Webinar: How SPs Can Build Profitable Revenue Streams with Storage Services
Watch Now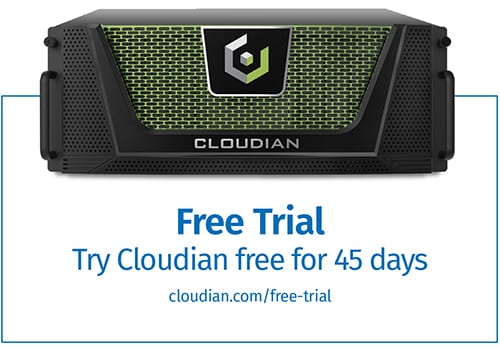 Try Cloudian for Free for 45-days.
Sign Up Now